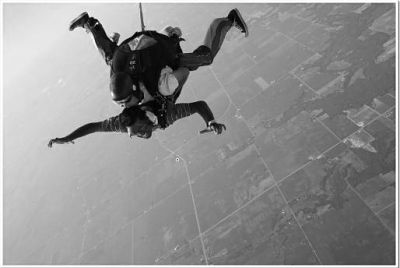 On 4th of July, 2012, we went for Skydiving near Chicago. It was one of the most exhilarating experiences of our life. Skydiving jump was at thirteen thousand feet, with free fall for about 40-50 seconds at about 120 mph. To jump out of plane at such height requires great courage. Yet your tandem instructor is right there with you, holding you tightly with all the harnesses, gears and most importantly parachutes. (Two of them, one as a backup). To jump from the plane is to trust him for your life, believing that even if you will fail to open the parachute, he will do it at the right time. When you are at such a height in plane with open doors and when you look down, all your senses may tell you, "This is not a good idea!" Your common sense look for safety and security…
Now Faith is the substance of things hope for, the evidence of things not seen. (Hebrews 11:1)
Faith in some ways is similar to this experience. When you are in an extreme situation, all your senses would tell you to look for a safer route (to stay in the plane). But you need to trust your Savior and jump in the unknown, believing that He will do the right things at the right time. This can be the most scary, yet the most amazing experience of your life. One that cannot be described, unless you do it yourself. (Also read: Jesus heals Jairus' daughter)
We walk by faith, not by sight. (2 Corinthian 5:7)
To walk by faith is to look beyond sight. It does not always mean not to use your common sense. But it means to look beyond your current circumstances.

Sight looks at the circumstances and common sense. Faith looks at the person of God and His Promises.
Sight looks for safety but faith goes into the Unknown.
sight evaluates the present, but faith looks forward to the future.
And without faith it is impossible to please God. (Hebrews 11:6)
Nothing pleases God more than faith in Him.
Therefore we also, since we are surrounded by so great a cloud of witnesses, let us lay aside every weight, and the sin which so easily ensnares us, and let us run with endurance the race that is set before us, 2 looking unto Jesus, the author and finisher of our faith, who for the joy that was set before Him endured the cross, despising the shame, and has sat down at the right hand of the throne of God. (Hebrews 12: 1-2)
Are you willing to live your life by faith or by sight? Please share your comments here.