Bible Study Guide:



Luke 9:10-17

John 8:1-14

Matthew 14:13-21

Mark 6:32-44
Background of the Miracle:
"Feeding the 5000″ is the only miracle recorded by all four gospels.
Disciples came from their mission, they were tired and hungry, did not have time to eat. They needed rest.
Jesus had just heard about the death of John the Baptist (Mat 14:13). (check out, Ministry of John the Baptist)
Jesus wanted him and his disciples to withdraw from the crowd so that they can have some rest.
They headed to Bethesda, by boat to discourage crowd from following them. (also check out Jesus healed disable man at Pool of Bethesda)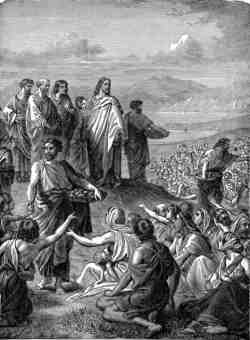 Bethesda – Fisherman's House:
Meaning of Bethesda  is the "Fisherman's house", it was home of Philip, Andrew and Peter.
The crowd were following Him, they were already gathered at the place, even before Jesus arrived.

Mark 6:34 –

"When Jesus landed and saw a large crowd, he had compassion on them, because they were like sheep without a shepherd."
How do we respond when some one invade our privacy?
We often try to avoid people, when we are tired, weary or under stress. Jesus however, welcomed the crowd and had compassion on them. How do we respond when some one comes to us with some need?
Jesus demonstrated compassion, first to his disciples and then to the crowd.
Jesus taught them about the kingdom of God. (for hours). (The Beatitudes – Poor in Spirit – Kingdom of Heaven)
Jesus must be an engaging teacher, that the crowd did not disperse even until evening. They were too engrossed in the teaching of Jesus. (Compare this with a church meeting, when preacher goes little beyond time, and people start looking at their watch, start dispersing.)
"Give them something to eat":

It was getting late, so disciples asked Jesus to let the crowd go.
Jesus' reply was startling – "Give them something to eat."
What would have been disciples' response?
They would have been shocked by Jesus' reply. There were about five thousand men, women and children. They did not have money to feed them. It would be like eight month's wages to feed them.
The practical solution was to let them go.
But Jesus' way does not always seem practical. (See Judge 6-7: Gideon's army of 300 men winning against 150,000 midianites.)
"What do you have?"
Jesus asked them another question, "What do you have, go and see?"
They found a boy with five loaves of bread and two fishes.
How can few pieces of loaves and fishes feed the 5000? It is impossible, totally inadequate, but that is all they had.
Jesus prepared them for Miracle – All were hungry, he didn't want chaos, disorder, shoving, pushing. So he directed them to have all the people sit down in groups. (Example of miracle in an orderly fashion, our God is the God of order.)
Disciples might not have understood, what he was going to do? But they followed his orders nonetheless.
Many times, God wants us to act in faith, even when we do not understand it.
Jesus offered a prayer of thanksgiving, giving thanks to the Father before the miracle.
He then broke the bread and distributed them.
It must have taken few hours to feed the whole crowd.
They were all fed and satisfied.
Jesus' final assignment for his disciples:
Jesus' final assignment for his disciples was to, "go and gather broken pieces." He wanted them to realize that God's provision is more than adequate. (He later reminded them about this miracle,  in

Mark 8:19.

)
This miracle had a profound impact on disciples, therefore all gospels have account of it.
This was a powerful discipleship lesson for his disciples. (Seven Conditions of Christian Discipleship)
"What do YOU have?"
Too often, we are overwhelmed by the need around us. Our resources are limited and inadequate. But we need to bring what we have to Him. He will in turn, bless them and place them into our hands, multiplied, more powerful than we can ever imagine. (Questioning God – bible devotional)
Jesus is looking for people who are ready to believe and trust Him, who are willing to bring whatever little they have.
God's provision is more than adequate. Are we ready to trust him, believe that though task may seem immense, Our God is more than sufficient. Are we willing to bring our resources, gifts, talents, time to Him? (Discover your spiritual gifts)
What do You have?
——————————
If you are blessed with this Bible study, I'd be very grateful if you'd help it spread by sharing it on Twitter, Facebook or your preferred social media network. Thank you!
—Amit Christian (BibleSEO Editor)
[sociable/]