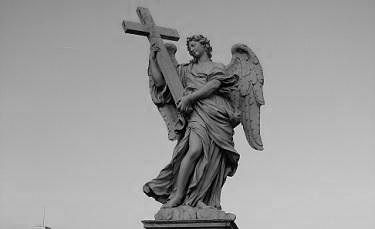 Angels:
They are created beings. (Neh 9:6)
They are not eternal and omniscient.
They are endowed with free will.
The Hebrew word for angel is 'Mal'ak' and the Greek word is 'angelos', both meaning 'Messenger'. So in this context, an Angel is described as a messenger of God.
In popular culture, Angels are always portrayed as winged creature. But in the Bible, only 'Cherubim' and 'Seraphim' are identified as winged creatures. (Isa 6:2-4, Ezk 1:5-6)
Within the biblical texts, angels appeared as men most of the time.
Hebrew 1:14 represents Angels as 'ministering spirits' sent to serve those who will inherit salvation.
Jesus Christ received angelic ministry several times. (Mt 4:11, Luke 22:43)
They are associated with the final judgment. (Mt 16:27)
They are also named 'Sons of God', 'Holy ones', 'Heavenly hosts'. (Gen 6:2-4, Ps 89:5, Dan 4:13, Luke 2:13)
They worship God (Luke 2:13, Rev 19:1-3)and attend around God's throne. (Job 1:6, 2:1)
They are God's army. (1 Chron 12:22)
Demons:
They are also regarded as evil spirits, unclean spirits and deceitful spirits.
They are fallen angels who joined Satan in his rebellion.
They follow Satan.
In the Old Testament, there is no reference to individuals who are said to be demonically possessed!
People sacrificed children and unclean animals to appease the demon/demons. (Ps 106:37, Deut 32:17). Such demonic practices are strictly prohibited in the Bible. (Deut 18:10-12)
In the New Testament, there are several incidents of possession of an individual by evil, demonic spirit.
Demon possession caused(as mentioned in the Bible):

Muteness (Mat 9:32, 12:22, Mk 9:17,25)
Deafness (Mk 9:25)
Blindness (Mat 12:22, John 10:21)
Convulsions (Mk 1:26, 9:26)
Superhuman strength (Mk 5:4)
Self destructive behavior (Mat 17:15, Mk 5:5)
Unnatural voice (Mk 5:7)

The New Testament is very clear about the distinction between physical diseases and demonic possessions. (Mat 4:24, Acts 19:12)Equating demonic possessions as some epilepsy or neurotic ailment is not right.
There are many incidents of Jesus casting out demons.
Jesus (for most of the time), did not allow demons to speak.
Jesus himself was accused of being possessed by a demon. Read more Jesus accused of being possessed by Beelzebub (Prince of Demons)
Demons are not atheists:

They know God.
They knew Jesus and about His divinity even before the disciples could realize it. (Mt 5:13, Luke 4:34)
They are well aware of their fate. (Mt 5:7, Luke 4:34)
Mark 5:7 "Swear to God, that you would not torture me."
It is possible that they have names. (Mk 5:9)
They know who God's servants are. (Acts 16:16-18)
They know the Gospel. (Acts 16:18)
"There are no liberal demons, each demon in hell is orthodox, bible believing evangelistic demon." – John McCarthy
More Bible Study Topics:
——————————
If you are blessed with this Bible study, I'd be very grateful if you'd help it spread by sharing it on Twitter, Facebook or your preferred social media network. Thank you!
—Amit Christian (BibleSEO Editor)
[sociable/]