Bible Study Lesson:
Mark 10: 46-52
Background of this healing miracle:
Jericho (meaning  'Fragrant') was about 15 miles from Jerusalem. (Jesus at Zacchaeus' home in Jericho)
Jesus was going to Jerusalem for the Jewish feast of Passover.
Bartimaeus, this is the one of few places where name of a person who is healed by Jesus is mentioned!
Meaning of Bartimaeus:

Greek – Honorable man,
Hebrew Heir or son of unclean, spiritual blindness.
His name possibly can mean the son of blind man. (Son of Timaeus)

There was a common belief among Jews that the blindness is a punishment from God for a personal sin, see (John 9:34) Blind man with Pharisees. (Also check out, Jesus heals the disabled man at Pool of Bethesda)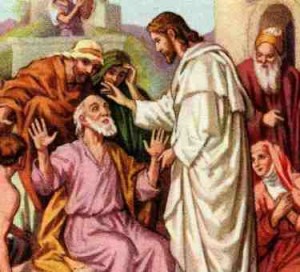 Q. What do you think about blind Bartimaeus?
Poor, one of many beggars on the road to Jerusalem, he did not own much, his only possession could be his garment.
Dejected, downcast, desperate, and yet bold, persistent, hopeful, sincere in his request.
Q. What was his response when he heard about Jesus? What did he know about Jesus?
He began to call onto Jesus with a loud voice. He was persistent.
He must have heard about Jesus, his miracles, healing, his claims, teachings.
He must have believed that Jesus can heal him.
Q. What does title 'Son of David' mean to Jews?
Promised Messiah, One who is to come from the lineage of King David.
See John 7:42, Mat 21:9, Isa 35:5
Q. What was crowd's response?
Twofold, first they rebuked him, and then encouraged him!
Q. What did he do when Jesus called him?
He threw his coat, his garment, his only possession, which may come on his way to reaching to Jesus. He was ready to get rid of anything that comes on his way.
We may also need to give up our old garment of self-pity or self righteousness, our old self, if we want to come to Jesus.
Q. Why did Jesus ask him question?
It was a very unique feature of Jesus' ministry. It was to confirm his faith, public proclamation of his trust in Jesus.
"What do you want Jesus to do in your life?"
Q. What can we learn from blind Bartimaeus?
His faith in Jesus.
He showed his faith by actions.
He was persistent in his call to Jesus.
He followed Jesus thereafter.
Life Applications:
We all need healing; it can be physical or spiritual. Jesus can heal us, but we need to come to him, put our trust in him.
"To see beyond the present is Wisdom, but to see beyond possible is Faith."
Checkout on Amazon:
——————————
If you are blessed with this Bible study, I'd be very grateful if you'd help it spread by sharing it on Twitter, Facebook or your preferred social media network. Thank you!
—Amit Christian (BibleSEO Editor)
[sociable/]