BibleSEO (Bible Study Exposition Online for Small Groups) is a free online resource for small group bible study or personal quiet time. It offers study guides in an easy to follow Question-Answers format. There are plenty of great bible study resources online. But many of these resources are in very descriptive form. Readers often tend to loose focus. BibleSEO bridges the gap between your study group and these resources. Here are some of the key features of BibleSEO.
Bible study guides are in an easy to follow question-answers format.
Answers are indented or bulleted for the ease of reading.
Our main objective of BibleSEO is "Back to the Bible", it does not give a complete answer or solution, but it makes the reader think, go back to the Bible and discover for themselves.
User can submit their own personal / group bible study.
BibleSEO also offers variety of bible study methods or techniques for preparing/leading your small group.
Founder and Author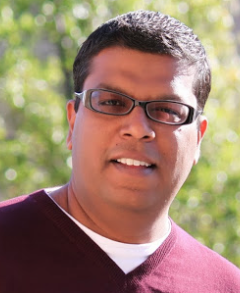 Amit Christian, Ph.D.  is the founder and bible study writer of Bibleseo.com. He is currently working as an Engineer at MNC in Peoria, IL.
You can find Amit's google+ profile below.
You can also visit BibleSEO Facebook page at,
https://www.facebook.com/pages/Free-Bible-Studies-for-Small-Group/329661782761
And Twitter page at,
I hope and pray that the resources provided on BibleSEO will bring richness and intimacy in your own personal walk with Christ and in your small group.