Bible Study Lesson: Jesus Heals Paralytic Man
Mark 2: 1-12
Q. The passage starts with Jesus entering Capernaum again. So, What did Jesus do on his first visit to Capernaum?
Preached in the synagogue (Mark 1: 21-34)
Healed many sick and diseased (Jesus heals the Leper, Jesus heals at Pool of Bethesda)
Drove out demons from demon-possessed
The whole town was gathered to see Jesus (Mark 1: 32-34)
Jesus was very well known, he was a famous figure. So, when people heard that Jesus was in town again (Mark 2: 1), there was such a huge crowd that there was no room in the house.
Q. What was the scene at the house?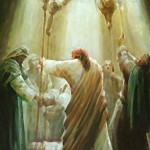 House full! No room even outside the door
People must have brought many sick, demon possessed, expecting Jesus to heal them
Scribes (Teachers of the Law) were present there to test him or check him
Jesus was preaching the word to them
Q. Who do you think, were those four men? What was their motive?
They could be friends, relative or family members to the Paralytic man
Wanted their friend to be healed
The Paralytic man's situation seemed to be very critical from the urgency or extreme measures which they took.
Q. What would have they thought when they saw that there was no room? Visualize their conversation. Imagine yourself into that situation.
Disappointed
May be next time (Well, we did our part by bringing him here!)
Let us wait here for Jesus to come out!
Let us go back, we will bring him again!
Q. What do you think about their decision?
Now or never!
Desperate measures
Tough, difficult and quite strange decision (they decided to open the roof of somebody's house, it wasn't their house, after all!)
Imagine also the paralytic man's agreement in this decision
Q. Visualize the setting in the house.
Jesus was preaching the word.
Everyone was listening. And suddenly, there was a noise on the roof.
And before, anybody could realize what was happening, there was a man lowered down from the roof by four men! Quite an attention grabber!
(You can do some research on the location of the house roof )
Q. What can be inferred form these four men's action?
They knew about his friend's desperate need
They showed amazing faith
The paralytic man on his part, showed amazing trust in his friends
They did not give up
They were sure that if somehow if we can make him meet Jesus, he would be healed
Q. What do you think about Jesus' reply, "Son, your sins are forgiven"?
Healed him spiritually first!
They got more than they expected.
Q. What was Jesus claiming to be? What did Scribes think?
Jesus claimed that he had an authority and power to forgive one's sins
Only God can forgive sins, So he was claiming to be equal to God.
Jesus announced his forgiveness in front of crowd. Compare it with Luke 7:48.
He was clearly claiming his divinity.
There was a popular opinion at that time that disease is the effect of the sin
Q. What do you think is easier, 'your sins are forgiven' or 'get up, take your mat and walk'?
It may be easier to say that your sins are forgiven, because you don't see the results. It is spiritual. You cannot see visible change.
But to say to the paralytic man, get up and walk,  he must be healed, you can see the physical change.
I am still wondering what Jesus meant by this question. But one thing is clear, he proved his claim to have power to forgive sins, by  healing him physically as well.
Jesus showed his divinity
By reading thoughts of teachers of the law
By forgiving sins of the paralytic man
By healing him
Application:
It is fascinating to see the faith of those four men and their actions. They were willing to bring his friend to Jesus at any cost. I think, as a christian, we often bring our friends (who do not know Jesus) tentalizing close to Jesus. But the last step of introducing him to Jesus, needs faith and desparation. It requires extreme measures. Are we willing to take that risk and  do something which would seem like awkward, strange and often risky?
We often forget about the paralytic man, who is mostly silent in the whole episode. But none of these could have possible without his mutual consent. He was also willing to go to any extent to see Jesus. He received more than he expected. He received spiritual and physical healing.
Are we prepared to take extreme measures to meet Jesus?
——————————
If you are blessed with this Bible study, I'd be very grateful if you'd help it spread by sharing it on Twitter, Facebook or your preferred social media network. Thank you!
—Amit Christian (BibleSEO Editor)
[sociable/]